• chic • flirty • girly • staycation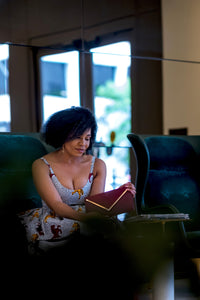 Hey Lovies, I know it's been a while, alot has been happening on my end. Bought a house; totally unplanned, closed on it sooner than I expected and then the hard part, moving and furnishing. Won't lie to you, its been extremly stressful. So to celebrate I treated myself to a staycation with a private dinner. I needed to wear something that was fun, girly, but still made me look like an adult (if that made sense). Welp here is the look, what do you do to de-stress? Dress: Teal & Moxie Apparel, the Onyi dress get HERE Clutch: (old)...
---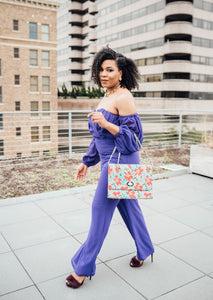 Hey guys, Hope your week is going great, mine has been kinda all over the place but we got this!!! 😉 For someone who has purple as one of her top 3 fav colors, I sure don't have enough of this color in my closet. Fall colors can be worn as we transition to spring, and the best way to do that is with accessories….in my case, this floral arm candy. This was a fun look for a fall pallet. chat later! XOXO Julz Outfit Details. Jumpsuit: Fashionnova HERE Shoes: Michael Kors HERE Bag: Teal and Moxie Apparel HERE
---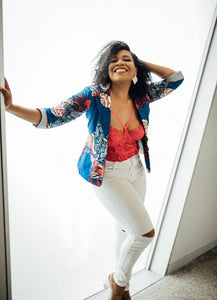 Hey Guys, so it was meant to be sunny, but rain clouds decided to make an appearance; gotta love 'spring' in Houston. I'm wearing the Nnenna blazer, I love it so much I LITERALLY named it after me (yes, my Nigerian/igbo name is Nnenna lol). I designed this jacket to be versatile (peep the stripped lining on the sleeve) Today I decided to go flirty… perfect for a date 😉 Not gonna lie, this was stepping out of my comfort zone and I must say, I liked the result.   Talk soon!!! xoxo Julz Outfit details Blazer : Teal and Moxie...
---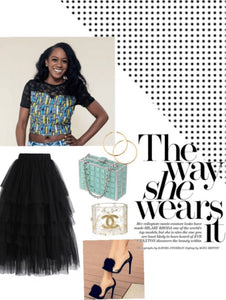 Be the picturesque wedding guest in this outfit. Its light enough to be fun and layered enough to be taken seriously. Outfit Details Top: Teal and Moxie Apparel get HERE Skirt: Chicwish get HERE Clutch: Judith Leiber, as seen in picture get HERE, Cute cheaper option HERE, more practical HERE Cuff: Channel get HERE, cheaper option Tory Burch get HERE Shoes: Venus get HERE, Cute option HERE
---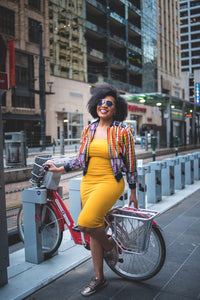 Hey wonderful people,  Been MIA cuz I just moved to my house <insert happy dance 😀 and excited scream> lol It was extremly stressful but its DONE! now the fun *cough* expensive *cough* part, decorating. Anyho! its May and its finally begining to warm up but not fully tank top and shorts weather yet so I decided to share my fav and most importantly, affordable causal look. I had bought this tube dress awhile ago and completely forgot about it untill I designed the Halima jacket. It was a match made in casual, chic heaven 🙂 This look is bright...